Voice of COVID-19
Test Sites
Free COVID-19 testing is available across the state of Tennessee at local health departments. You can also request a self-testing kit here.
Representation Matters.
Research shows that minorities are disproportionately affected by different types of health phenomena. This case is no different as it relates to COVID-19 and minorities. In fact, African Americans are substantially more likely to be infected by and die as a result of COVID-19 in comparison to their counterparts. According to the U.S. Census Bureau, Black people only account for 13.4% of the total population, but represent about 20% of the nation's COVID-19 cases. In counties with more Black people, the statistics tell an even more tragic story. In highly populated Black counties, Black people account for more than half of all COVID-19 cases and 60% of all COVID-19 deaths.  Furthermore, age-adjusted hospitalizations for minorities are about 5 times higher than that of non-Hispanic whites. These burdens can be attributed to a range of social determinants of health.
In this case, representation in clinical trials and research is essential. In most COVID-19 studies and clinical trials done in the United States, African Americans have been underrepresented in each study relative to the burden of disease on the minority population in the studies in which the trials took place. Across the U.S., Black people only account for about 3% of clinical trials participants. Without participation from minorities, experts cannot assure that the vaccine will be effective on them. Efforts to increase participation are vital and ultimately can be life saving. This suggests the need for not only inclusiveness and diversity in research, but also the need to address why said disparities exist. In order to address this, other issues and needs will have to be addressed.
New York Issues First Vaccine in the United States
The state of New York vaccinated their first non-trial vaccine recipient today. Sandra, an ICU nurse, received the vaccine and shared a short message after doing so.
COVID-19 Data Visualization
As of December 10 2020, there were 3,124 deaths from COVID-19 in the United States, bringing the total death toll to 289,373. The United States has had the greatest increase in cases in comparison to other countries. Click here to see a quick breakdown of what the statistics in the 10 most affected countries look like since reporting of their first case.
As cases continue to rise, more lives are lost. Here is some data in motion summarizing today's COVID-19 statistics.
12/14/20
As cases and deaths continue to rise, the United States is substantially leading other countries in both instances. With over 190,920 new cases as of today, the total amount of cases is just over 16 million. There were 1,389 new deaths as of today, making the death toll just shy of 300k. To see today's data in motion and where cases are rising, click here.
12/21/20
With two vaccines approved for emergency use, COVID-19 cases and deaths are still climbing. As of today, there are 189,099 new cases, making the total number of cases 17.4 million. As of today, there were 1,509 new deaths, making the total 317,668. To see today's data in motion video, click here.
COVID-19 Long-Haulers
Long-haulers are people who experience long or chronic COVID-19 symptoms. At least 10% of all COVID-19 cases are long-haulers, regardless of being healthy prior to COVID-19. Doctors believe this to be due to an autonomic dysregulation. In other words, the body that there is an imbalance somewhere in the body that causes it to stop regulating things (e.g. heart rate and blood pressure). Some symptoms long-haulers may experience include fatigue, brain fog, and heart palpitations. These symptoms are consistent with postural tachycardia syndrome (PoTS). PoTS is usually triggered by viruses and is treatable, but not curable. More research needs to be done to better understand more about the long-term effects of COVID-19.
The COVID-19 Tracking Project
The national 7-day average for COVID-19 deaths is the highest it has ever been and it is likely that this number will continue to climb in the coming weeks. On 12/10/20, multiple states reported more than 10k cases on just that one day.
According to the COVID-19 Tracking Project, there are currently 107k people hospitalized with COVID-19, which is another record breaking statistic. The graph below shows the total people currently hospitalized as of 12/10/20, along with the 7 day moving average.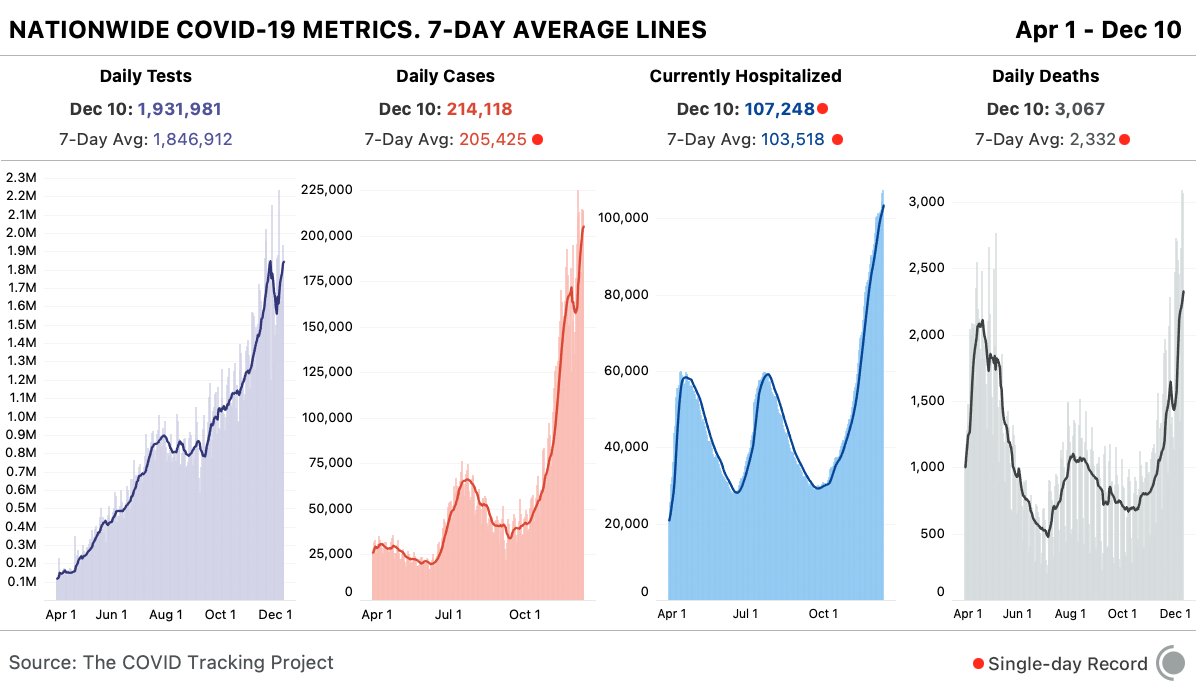 Click here to see more from the COVID-19 Tracking Project.
COVID-19 Data Visualizations
Graphs from: World O Meters